Book:  The Amazing Mr. X from the Sinful Cinema Series
Author: Doug Brunell
Type of Book: Non-fiction, cinema studies, film criticism
Why Do I Consider This Book Odd: Less odd than disheartening – this book illustrates how it is that being very good at what you do is no assurance you will ever become famous or even well-respected in your craft.
Availability: Published by in 2020 by Chaotic Words, you can get a copy here:
Comments: Doug Brunell has become a staple of my "Oddtober" adventures.  I've read a little of his fiction (I read Black Devil Spine and my main criticism was that I wish he'd just let loose a bit more and wallowed in the depravity because he was soooo close to pulling off the most difficult feat a horror writer can achieve – pornographic violence that doesn't pander) but am mostly familiar with his looks at weird, fringe and/or under-known films.  I hope he keeps updating his Sinful Cinema series until either I or this site dies because I think his work has become the OTC version of It's the Great Pumpkin, Charlie Brown. You gotta watch Linus out there in the pumpkin patch and you gotta have a Sinful Cinema volume or it just doesn't feel like Halloween.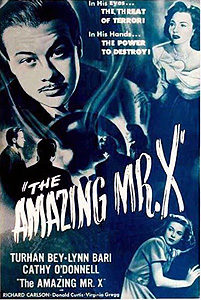 I am in a strange place with The Amazing Mr. X because I want to engage in my usual, endless examination, and this film isn't outrageous like some of the films Brunell has explored. I have had no qualms about spoiling the plots of those films because the plot and characterization took a backseat to the shlock, sleaziness or overall hokeyness.  Few watch Crypt of the Living Dead or The Abductors for plot complexity or interesting characterization and god help those who find such titles and hope that at least the acting is decent.  But Brunell has a gift for seeing the intent behind bad or outrageous films, showing his readers unexpected ways to look at the plots, character arcs that would have been missed among all the stilted delivery and random boob shots, and his biographies of those involved in the films show the crazy ways Hollywood is connected, from the winding paths between sexploitation and Disney franchises to how the name of a small boat that takes a researcher to a vampire-infested, in-bred island can demonstrate the uneasy interactions between rational science and pagan tradition.  Without Brunell, the average film fan might not have ever understood all of these connections and ideas that permeate even the crappiest low budget horror film, and his extraordinary love of the subject redeems films I would have ignored had I known about them.
That is not the case with The Amazing Mr. X. I can see watching this just because.  In fact, I sort of want to watch it with Mr. OTC to see what he thinks of it.  As Brunell notes in his examination, this film has a lot of things that hamper it, mainly the title, which leads one to believe that this is going to be some sort of character-driven science fiction film.  It's not.  Brunell says it's a noir film disguised as a horror film and he's right.  Every actor hits their mark, the plot is a masterful series of misdirections that never seem forced or false, and all the important characters have unexpected redemption arcs that make sense and are not insulting, forcing a schmaltzy and happy ending.
So I don't want to spoil this film.  I think you need to watch it, decide what you think is happening, and then read Brunell's book.  This film is fairly easy to get hold of.  I watched it on Amazon Prime for free but the film is also all over YouTube.
Quick synopsis: The extremely wealthy Christine was widowed when her husband Paul died in a car crash. She feels his presence still and is having trouble moving on. Her somewhat annoying but adorable younger sister, Janet, wants her to accept an engagement ring from her new suitor, Martin, a likeable guy, but on the night when Martin proposes, Christine meets Alexis, a clairvoyant and spiritualist (who has a big squawking crow as his familiar, a bird whose role in this film was not clear to me until Brunell explained the ending), who knows all about Paul and Martin.  His unexpected knowledge weighs on her until she consults Alexis for help and becomes a regular client of his as she uses his psychic powers to try to reconnect with Paul.  Paul's memory is causing Christine to become unhinged and Janet and Martin become suspicious of Alexis. They hire a private investigator, who is a former magician who knows all the tricks of psychic con men (a sort of James Randi figure, may he rest in peace), to look into the psychic and, sure enough, he has a file on Alexis.  To make sure Alexis is the man he thinks he is, the investigator and Martin send Janet in as bait to get his fingerprints but Alexis is two steps ahead of them because he is, indeed, a con man. That may seem like a spoiler but it isn't because the viewer knows Alexis is a fraud the moment she sees him.  But in the end, Christine really is in danger, Paul is the source of this danger, and by the time everyone figures out what is going on, Christine is more or less a second thought as far more interesting characters shape the end.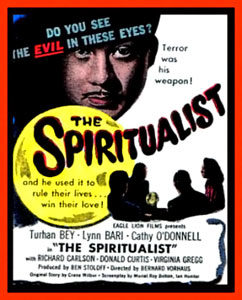 This film is an interesting history piece.  Filmed in 1948, it comes at a sort of crossroads in cultural reactions and social movements.  Young widows filled with grief at the untimely deaths of their young husbands were not uncommon after WWII, so this movie had a sort of anchor in Christine. But spiritualism was dying off, men like Alexis raising more suspicion than praise, so much so that the film's title was changed from The Spiritualist. But Christine (and Janet) are wealthy, presumably through their family, leaving them prey to con men, while also showing that they didn't need anyone to take care of them.  Moreover, Alexis, played by Turhan Bey (who was known as the "Turkish Delight" and once dated Lana Turner but couldn't marry her because his mama didn't approve), was shoved into a role that was losing potency.  The trope of women swooning over suave sheik types of men was drawing to an end.  Yet in spite of these issues, from the terrible title to the tired tropes to the lack of a "big name," the film works.  Brunell speculates that if one big name had been cast, this film would today be far better known than it is.
One of the benefits of reading Brunell's books after watching these films is that they encourage me to watch carefully, almost training me in film analysis.  I missed the subtext behind the ending, and there were other bits and pieces I didn't pick up on.  But it's interesting what I did see before I read Brunell, things I would have missed ordinarily.  For example:
–I didn't entirely connect the dots but I felt a sort of discordance at first because it seemed like Christine, who was played by the lovely Lynn Bari, was the protagonist of the film.  Why was the film called The Amazing Mr. X if Christine is the lead character?  Well, she isn't.  Alexis is, and that misdirection is intentional and part of why this film is so clever.
–Janet, who is at least ten years younger than Christine, has a chipmunk voice, appears ditzy and silly, and Alexis is able to ingratiate himself to her by insinuating that she is actually the more mature, more grounded of the sisters. Even Christine scoffs at this but Alexis is not wrong. Janet may be silly but she is not plagued by ghosts of dead husbands with questionable motives, she offers unwavering moral support, and is capable of saving lives when the chips are down.  Christine, who has a sort of Joan Crawford, 1940s remote elegance that often is linked to feminine intelligence, is easily fooled, ridiculously unable to act in her own best interests, and at the end the least interesting character in the film.
–I wondered why I liked the bad guy – Alexis – so much when he was a con man.  Because I'm supposed to.  Again, the director laid out a path I was walking on before I knew I was even walking.
And I picked up on these things because I was anticipating Brunell's book and what it would show me.  It's a fun sort of mental exercise, a puzzle that connects my experience to the ideas of someone very well-versed in film while showing me the puzzle pieces that I missed.  For example, Brunell's discussion of the lighting in the film was fascinating and far outside my wheelhouse.
And though the cast and crew biographies are not as salacious as those in the other volumes of Sinful Cinema I've read, they are still very interesting.  For example, one of them was blacklisted by McCarthy.  One was utterly beloved by all who knew him. One actress lost her acting contracts when she refused to divorce her husband at the demand of a studio executive. And all of them, very good at their craft, never achieved the fame they deserved.  Seriously, this was a tight cast.  The weakest link was the detective and even he had decent acting chops.  If you dislike Christine, it's because Lynn Bari's performance was deliberate in its attempt to create that emotion.  If you begin to enjoy the Gidget-like Janet, well-done because she's a character who only seems like a caricature of a chatty blonde until you juxtapose her with the more "competent" female character and realize she's pretty cool.  (And though you aren't wholly expected to want to root on Alexis as he cons Christine, if you do find yourself feeling ambiguous about him, you're in good company because I didn't want Christine to come to harm, but if Alexis got a few bucks out of her, c'est le vie.)
Brunell's other four volumes in the Sinful Cinema series focus on more outrageous or fringe fare and initially I wondered if I was watching the correct film because I didn't find myself falling into the sort of MST3K mindset one uses when watching a film that is notably terrible in some manner.  This is a well-crafted, though certainly flawed film, with an interesting script, good actors, and mystery elements that are always honest, never resorting to uneven characterization or left-turn plot twists.  Yet in its own way its as much an outlier as Crypt of the Living Dead because the cast and crew themselves remained outliers in an acting community that never gave them their well-earned dues, the film itself got lost among other noir films that didn't mislabel themselves via terrible titles, and this film seems… cursed in a way, including a leading lady who died in a notorious fashion before the film began production, and terrible timing.
I really enjoyed Brunell's tour through The Amazing Mr. X. It was particularly enjoyable seeing his keen eye take on a film that isn't mostly boobs, poor acting, terrible casting, and inexplicable plot elements.  It's great to see unexpected weirdness in more mainstream and conventional fare.  Highly recommended.