Our hosting provider, A Small Orange, is the online equivalent of the human taint, also known as the gooch depending on regional dialects. I will often receive all at once several months to a year's worth of comment notifications or emails sent to me via the site's email address.  One time a terminally-ill author sent me a lovely message asking me to review his last book because he was so moved by my first review of his work. I received it months after he died. I do not know why we haven't changed providers yet, but I suspect it's because I don't stay mad long enough to make it a priority. I also am less active on the site lately and check the back end far less often than I should, so I don't notice gaps in messages in a timely manner. However, this last flurry of notifications contained a comment that gave Mr. OTC pause, enough pause that he became angry that such a comment had gone months without us seeing it.
"Some asshole is effectively threatening you and this comment sat unseen on the server for months until A Small Orange deigned to send us notification," Mr. OTC said. "What if he'd said, 'I'm on my way to kill you!' and we had no idea?" I suspect A Small Orange, who as a company sucks balls (which, by the way, are near the taint) will not be my host much longer. It should be mentioned that Mr. OTC ultimately was more angry at the taint than the asshole because he understands what is considered an actionable threat and what isn't, but I was surprised that he was so appalled at the comment. He knows what I write about.  He knows that I get terrible comments. Yet he looked at the comment and did not see what I saw. He saw the potential for genuine threat.
Here's the comment, with the beginning of my reply.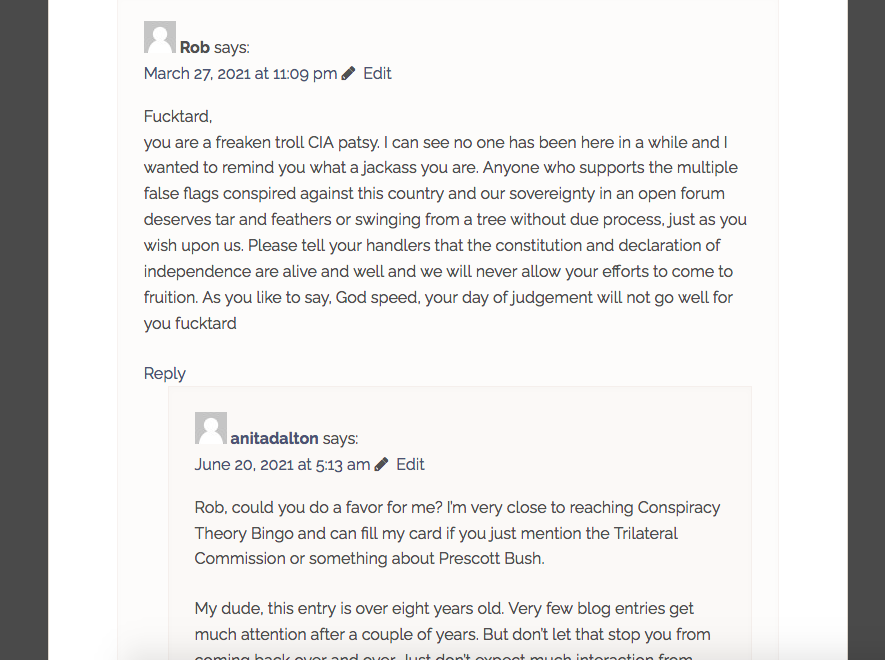 I think most spouses would feel uneasy seeing that their partner receives comments that invoke torture, extrajudicial murder and final judgement for perceived wrong-doing. But I've got this. I've been doing this for thirteen years and somewhere along the line I learned how to analyze documents in a way that gives me a pretty good metric for whether or not I should be afraid or concerned about what angry commenters say to me when they are especially pissed off.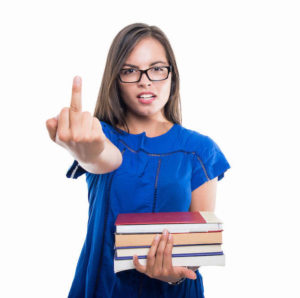 While it has to be said that I am not a behavioral sciences expert, nor am I a legitimate threat assessor, I've been reading the words of madmen and reactions to the words of madmen for so long that I reckon I can differentiate between a threat and a dude who unloaded on me after a really bad day (or month, or year). Rob may have intended for me to feel afraid, but offered no harm that I felt could endanger me or my family.
I've had two or three threats I considered legitimate since running my book discussion sites and those messages were radically different than Rob's. Those comments showed that the authors know who I am, meaning they know my full name, where I live, the names of some of my pets, that my husband is ex-military. They had specific issues with something I definitely wrote, showing that they actually read what I wrote and were reacting to me specifically, and they did not speak in generalities. They made reference to how easy it would be to find me or a specific pet, what they wanted to do to me or the cat, and mentioned a time frame wherein they hoped to do harm to me.
Rob's comment wasn't anywhere close to being genuinely threatening. Unpleasant? Yes. Reason to freak out? Nope. I know some people will disagree with that assessment so let's break his comment down and hopefully I can explain why I think Rob hollered at me online rather than metaphorically kick the family dog after having a bad day, and hopefully this analysis will help anyone else who is periodically frightened by what angry (mostly) men say online. Plus, sometimes it's just fun to hyper-analyze the hell out of weird comments.