Because I don't sleep for the USA Olympic Insomnia  team and am thinking about going pro, I find myself falling down rabbit holes online at 4:23 a.m. You know how it is. Lately I've been lucking out and find myself falling down smaller, less tunneling holes.  The rise of what I like to call "weird shit" YouTube channels are a great source for short-term rabbit holes and one of my favorites is Nick Crowley's channel. He's covered some of the more time-intensive Baby's First Late-Night Google Search topics like Dyatlov Pass, Elisa Lam, and Black Eyed Children, but he also branches out into lesser known weirdness.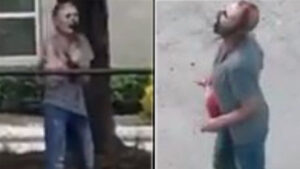 He earned a permanent place in my heart when he was among the first to share the debunk of the extremely messed-up Seattle Zombie Woman story. I'd long suspected it had something to do with medical current events, but I wasn't sure because it was, frankly, so well done that I couldn't immediately rule out that she was a gravely wounded woman who had suffered all kinds of abuse, be it at the hands of a maniac in a torture chamber or a maniac in a medical lab.
I wandered a bit into his back catalog a few months ago and caught his two videos on MrSleepyPeople (first video, second video).  The topic weighed on me for a lot longer than I would have expected. Both videos show the actions specifically of the man who was behind the now banned MrSleepyPeople YouTube channel and, in general, others in that bizarre community. As one so often experiences in these sort of "watch me do something taboo behind the scenes" videos, Nick demonstrated an escalation of grossness within the community.
MrSleepyPeople had a catalog of videos that showed he liked to lick – thoroughly lick – the eyeballs and tear ducts of sleeping women. All of the women he featured in his videos were passed out asleep with their similarly unconscious boyfriends next to them. MrSleepyPeople would pry open the females' eyes, touch their eyeballs and then begin to lick them. It beggared belief that just alcohol intoxication could render the girls so out of it that they did not react when light and wet pressure were applied to their eyeballs, but I suspect other sedatives were at play. Nick also explained that it's possible, especially if it occurs during certain stages of sleep, to engage in such intrusive behavior without the victim waking. A couple of times the women stirred a bit when he touched their faces and he quickly retreated, but for the most part he was able to lick the eyes of a variety of women without them reacting.
It seems likely from repetition of backgrounds and a certain amount of context that these women knew MrSleepyPeople in some manner, as he had access to their sleeping spaces, as if they became intoxicated in his home and stayed there overnight. There was never any sign he broke into homes to perform his fetish. I wondered too if these women had given him permission to do it. Perhaps they didn't care what he did to their eyes when they were sleeping. I also wondered if there was a quid pro quo element, trading access to their sleeping eyes for money, drugs, or just a place to crash for a while. I guess it's possible that these women had given him permission but it seems unlikely because the creepy subterfuge was very much an element of the fun for MrSleepyEyes, as much of it took place in the dark, with other unconscious people. Permission would have spoiled the fun for him.
It's equally unlikely that these women were actors. Pretend to be asleep knowing someone plans to pry open your eye and lick it for a prolonged period of time and see how long it is before your voluntary neural control shifts into automatic neural control. You can control when you blink, to a point, but the instinct to force the eye shut when lids are pried open or an object is lowered onto the eye is extremely difficult, if not impossible, to control without a lot of conditioning. I doubt these women were subject to such lengthy pre-video conditioning. There was an unexpectedly robust comment section on these videos, and his watchers urged him to do other things to the women, like play with the unconscious women's feet, or to put his fingers in their mouths or up their noses.