Film: Thanatomorphose
Director: Éric Falardeau
Type of Film: Body horror
Availability: Released in 2012, you can get a copy here:
Comments: I've shared more than once that I sit on the OCD spectrum.  I specifically struggle with dirt, grime and germs – basic contamination obsessions.  While the obsessive element of contamination fears will likely always be at the back of my head, the compulsive element seems better in check these days.  I can get a little tense if things get dusty or if the cats have been shedding or puking a lot, but I don't really find myself wanting to crawl into the vents to scrub them with a tooth brush anymore. Over the years I guess age and a good pharmacological combination have helped me tamp down the worst of it but mostly I'm doing pretty good, OCD-wise.
So of course I watched a movie about a woman who, essentially, rots to death. Of course I did. My skin crawled, I felt my scalp prickle, and about half-way in, I began to mindlessly tug on the hem of the t-shirt I was wearing. Luckily the film ended before I began chewing on my hair.  It's a bad sign when I begin to chew my hair.  It means I will be going to Target to get several bottles of Lysol, sponges with a mesh scrubber on one side, and a new pair of rubber gloves.  What I am trying to convey is that this film ended just in time for me to be able to collect myself and avoid sanitizing everything in the house for the next couple of weeks.
Also, I feel I should mention I will be spoiling the hell out of this film.
Brief synopsis: Thanatomorphose literally means the signs of decomposition the body exhibits after death. This film's title is what happens in the film. Laura, the heroine, begins to show signs of the sort of decay commonly experienced after death.  Initially, she has a few bruises and her joints are stiff, but once she turns the corner from freshly dead to recently departed, her bodily decay begins in earnest and speeds up.  All of this is normal if one is actually dead, but Laura still breathes, still walks, and still talks, though all of that becomes harder and harder as her body continues to decay. Eventually genuine death catches up to the rot and she finally decomposes past the point of being able to remain mobile and sentient and the film ends.
This is not an allegory.  There is no subtlety.  Laura may be able to breathe, have sex, interact with others, but she's dead.  She's an artist  – a sculptor – but she is unable to make any headway into becoming a working artist.  She had just moved into the apartment where the first scene takes place – unpleasant sex with her boorish boyfriend Antoine – and one of the first things she does is uncover a clay sculpture she was working on, an oval, almost egg-like mound of clay, but can find no inspiration.
Antoine steps on a nail after having sex with Laura, and she takes care of his wound with competence but shows little caring.  She's naked, sponging off the wound, pouring peroxide on Antoine's instep, and the first signs of rot show on her body.  She has a bruise along her jaw, a large bruise on her upper arm, and one on her ass. The bruises were settled and showing brown or purple – they were not fresh. I believe they were the first signs of Laura's death.  After Antoine leaves and she gives up on trying to work on her sculpture, she attempts to masturbate but cannot reach orgasm. This implies she probably didn't have enjoyable sex with Antoine – which seems very likely, actually – and she's feeling increasingly separate from her own body.
The next morning, she wakes and gets ready for work. While in the shower, she drops the soap and catches her nail on the drain, pulling it off.  The rot is beginning to accelerate.  She goes to work and comes back to a rejection letter from an art co-op. Later her friends come to visit until her landlord throws them out.  One of the friends, Julien, comes on to Laura, annoyed that she seems to prefer the brutish Antoine.  When her friends leave, Antoine again forces himself on Laura, even hitting her at one point.  He comments that her body is very cold, and he means it literally, but she doesn't seem aware of it.  She taunts him, insinuating that she is cold because he is lousy in bed and more unpleasant sex ensues.  After they go to sleep, she wakes and vomits on him, collapsing several times as she tries to get water or go to the bathroom.
Evidently Antoine leaves her in this state because when she rises again that morning, it is undeniable what is happening. Laura is dead.  Her body is showing the sort of effects one would see in a corpse dead for around 24 hours in a hot place.  She is unsteady on her feet, and it is here that she gives into the death that she clearly wants.  She accepts no help and asks for no help.  Julien shows up at one point and is appalled by what he sees happening to her but she refuses to leave for the hospital. Instead she gives him a blowjob, and he is both upset but unwilling to make her stop.  She's already beginning to smell, her head is bleeding from one of the falls and he ends up with her blood on his hands, yet he doesn't make her stop.  He leaves after ejaculating and she spits it onto the floor that previously she kept spotless.
Antoine comes back and Julien returns a second time, but I won't reveal exactly what happens to them but it really can't be called murder because the dead cannot form intent to kill.  Laura descends into a claustrophobic nightmare, wherein she begins to document her decay, using fingers and teeth that fall off in her egg-like sculpture.  She duct tapes her limbs when tendons begin to separate from the bone. She cloaks the windows with sheets or tapes trashbags over them in an attempt to cool her apartment because the summer heat is accelerating her decay.  She puts ice in cold baths, she becomes riddled with maggots, shits out the lining of her intestines, vomits up maggoty bile, and tries to preserve the parts of herself that she cannot tape or sew back on, in jars with some sort of alcohol, taking Polaroids when she can.  At some point she attempts to masturbate again, and this time she is able to climax, thinking about harming Antoine, which may have happened or may not have happened.  I'm not sure.  But only after she accepts her death does her sex drive return.
And she does accept her death.  She's suffered a metaphorical death in that she hates her relationship, her friends seem like assholes, her new apartment comes with a pushy landlord who considers people listening to music a party, and her art offers her no sense of accomplishment.  She's already dead but doesn't lie down yet.  She seems to revel in her decay, the ultimate form of self-harm – rotting to death while photographing the ruin of her body.
However, at the end, just before her body finally falls apart due to the rot, heat and continual submersion in cold water, she accidentally knocks over her sculpture and breaks it. She no longer has the physical capacity to pick it up and make it right again. I initially thought that the pain and misery of dying this way caught up with her because it was here that she showed her first real sign of anguish, screaming in torment.  She has another spell of screaming when she deals with Julien the second time, and she lets out a banshee-like wail just before the remaining components of her body give way to decay.  Her scream ends when her jaw falls off and her skin falls away, her limbs dis-articulating.
She wants this death.  She's a calm, competent young woman.  There is nothing hysterical or irrational in her behavior. She's had enough of her life and the world as a whole. But her death takes long enough that she engages in diversions of the sort that give the viewer a belief that perhaps if she manages to create the piece of art that shows her talent and expresses her inner loathing, she may escape this death, maybe it's a hallucination caused by a breakdown and not really happening.  But it is happening.  And there's no way out.  This is one of the most complete forms of self-annihilation you'll ever see in a film, and she embraces it without equivocation.
This sense that she wanted this suffering, this end, is probably what kept me from bathing in bleach the moment the film was over.  She did not feel misery because she was rotting.  She was rotting because she was miserable. The decay was her salvation. In a way that made the film easier to stomach.
This film takes place entirely in Laura's apartment – a living area with a kitchenette, a bathroom and a bedroom. As her decay progresses, the space seems even smaller as Laura blocks out the windows and makes makeshift dividers between rooms to filter out the light.  It wasn't an entirely claustrophobic feeling, seeing this play out in a small apartment but it was certainly stifling and limiting, an apt description of Laura's life.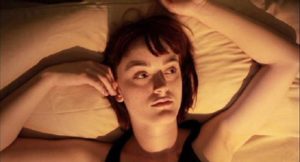 Additionally, the actress who played Laura, Kayden Rose, was naked throughout most of the film.  Once she took off her clothes after sex with Antoine after the "party," she never again has on clothing.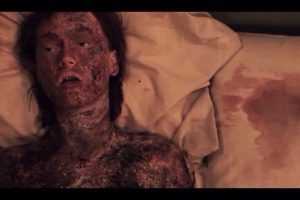 Kayden Rose's body's decay is hard to watch.
The actress herself is attractive, and she possesses a thin but decidedly "skinny fat" build, with little muscle tone.  Her continual nudity, even before the rot really set in, stopped registering as nudity.  Her body was a repository of death and maggots, and in that state the most beautiful of bodies stops possessing any erotic qualities (unless you have some very specific paraphilias). Her body was a waiting room in the ICU. It was waiting for the end, as well.
Kayden Rose also has a capacity to look gawky when her hair is swept off her forehead and she is wearing glasses, to looking beautiful when her hair is loose and wearing makeup.  Sometimes just a change in lighting could cause her to look angelic one moment and distressingly plain the next. Similarly, her naked body could in some scenes look like an Hellenic marble statue with hipster tattoos or could look strangely flabby and unkempt.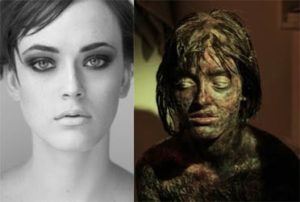 The ability to offer such differing views of her body in a film wherein her body was rotting away, is an interesting talent.  Kayden Rose carried this odd, upsetting film all on her shoulders, and to be able to change how the viewer perceives her form is remarkable.  I looked her up after the film ended but she's only been in three other films, two short films and one segment of a larger film.  Finding out she has not done more since this film was akin to watching Morten Klode in a death metal video and finding out he's never starred in a leading role in a film.
I guess sometimes you have to take what you are given. But it's a shame she's not in more recent films.
Though it really did make me physically and psychologically uncomfortable, I'm glad I watched this film.  I found it on Amazon as I was searching for a copy of yesterday's film, Where the Dead Go to Die. I deliberately try not to know too much about a film before I watch it, but by the title I more or less knew what I was walking into. But the film was simultaneously far more disturbing and much more appealing than I anticipated.  Bodily rot will always be disturbing but for me there is something very compelling about a heroine who has just had enough and embraces her end, however slow it comes.  This film is a slow suicide with no redemption but in the end Laura had more control than she ever had before in her life and once you get past all the "suicide is bad mmmmkay?" bullshit, this is a compelling, weirdly comforting film.