This post originally appeared on I Read Odd Books
My mother died on Saturday.   I have a lot I want to say about her but I am going to save it for her birthday. I'm sort of unfocused at the moment and need some time to be able to order my memories because I want my eulogy for her to be worthy of her.  She'd been ill for a long time, and in terrible pain.  Her death was a relief and a mercy.  Her funeral is Saturday, and I suspect I'll be back posting regularly some time in February.  Maybe sooner.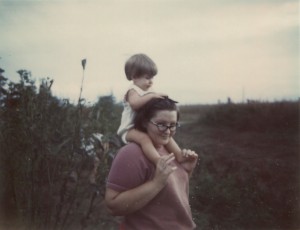 This is my favorite picture of my mother and me.  She was maybe 26 when this was taken.  We're out at my grandparents' home in a tiny Texas town called Lawn.  My mother's pictures are characterized by her wry smile and it's definitely in evidence in this photo.  Though her sickness affected her for many years, this is how I always remember her, at an age much younger than I am now.  Skin clear of prednisone damage, hair full and thick, back unbowed.  And that strange smile that told us all she knew things she would never tell, and they were funny, strange, interesting things, too.  Finding out about my mother, especially her own work with strange and incendiary books, has been a revelation.  I'll be sharing some of those stories here soon.
Godspeed, Mama.