This post originally appeared on Houdini's Revenge
I can't determine what site or what commentator initially brought up Craft/Blackwater but there's a lot of information about it out on the web. Craft International started being mentioned on April 17, two days after the bombings.  Pontifications about the possible presence of Craft International at the Boston Marathon blossomed into full force false flag paranoia on April 18. Alex Jones, the ruddy huckster, was a force behind accusations against Craft International as being part of a false flag, which makes sense because he was literally the first conspiracy theorist to declare false flag as the cause behind the Boston bombings.  He waited a cool 41 minutes after the bombings before he invoked false flag, and I have to commend him for his restraint.  It had to have hurt him to wait that long.  But he had to have sighed with relief when people began to notice the men in the black caps with the black backpacks because then he had something upon which to pin his false flag allegations.
I suspect I will mention this again when I discuss all of the false flag accusations that happened before 4/18, but it is logically impossible to declare any violent event a government-inspired false flag before the government has even had a chance to declare a suspect.  How can it be a false flag before the government has even told us an official story?  It can't, unless you are convinced that every horrible thing that ever happens is obviously planned by the government against innocent Americans in order to strip us of our rights in some sort of eventual Constitutional rights denigration in the name of… whatever it those who invoke false flag during a stiff wind fear.  At that point, all evidence is just confirmation bias.  They knew a false flag was going to happen.  They had to wait for one.  And that's crappy logic and evidence analysis.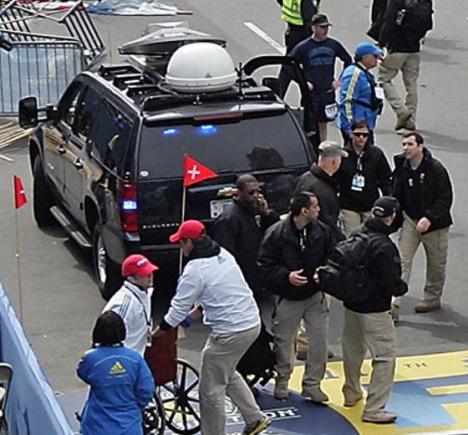 Still, the Craft International rumors had some steam.  The discussion and accusations were provoked by the number of men on the ground at the scene of the bombing, before and after, dressed identically. The men were wearing khaki pants, khaki boots, black zip-up jackets, black caps with what appear to be skulls on them, and black backpacks.
Craft International is a tactical and weapons training company that offers their services to military and law enforcement agencies. The Craft employees are ex-military – the company was founded by Chris Kyle, the former Navy Seal sniper who was shot to death on a shooting range in February of 2013, a sad end that sparked its own conspiracy theories. An explanation behind the company's logo can be found here. The company's logo has several facets to it, but it is mainly derived from the skulls that Kyle and Seal Team Three painted on their gear "in order to strike fear in the enemy." As of this writing, Craft International has not explained their presence at the Boston Marathon. I have not been able to find any sort of official explanation or admission as to why Craft Agents may have been present at the Boston Marathon.
When the FBI narrowed their search to the Tsarnaev brothers, it caused a surge of outrage. Given the number of black backpacks that people wore that day, and given how much the "Craft" backpacks resembled the pack that exploded (the pack that makes up the bulk of the analysis in my "The backpacks" section), conspiracy theorists began to cry foul. They believed that Craft had been involved in a government attack on American citizens and that the government was specifically focusing on the Tsarnaev brothers as patsies. Some also believed that the government and media were specifically suppressing pictures of Craft employees so as not to distract from the Tsarnaev brothers as suspects.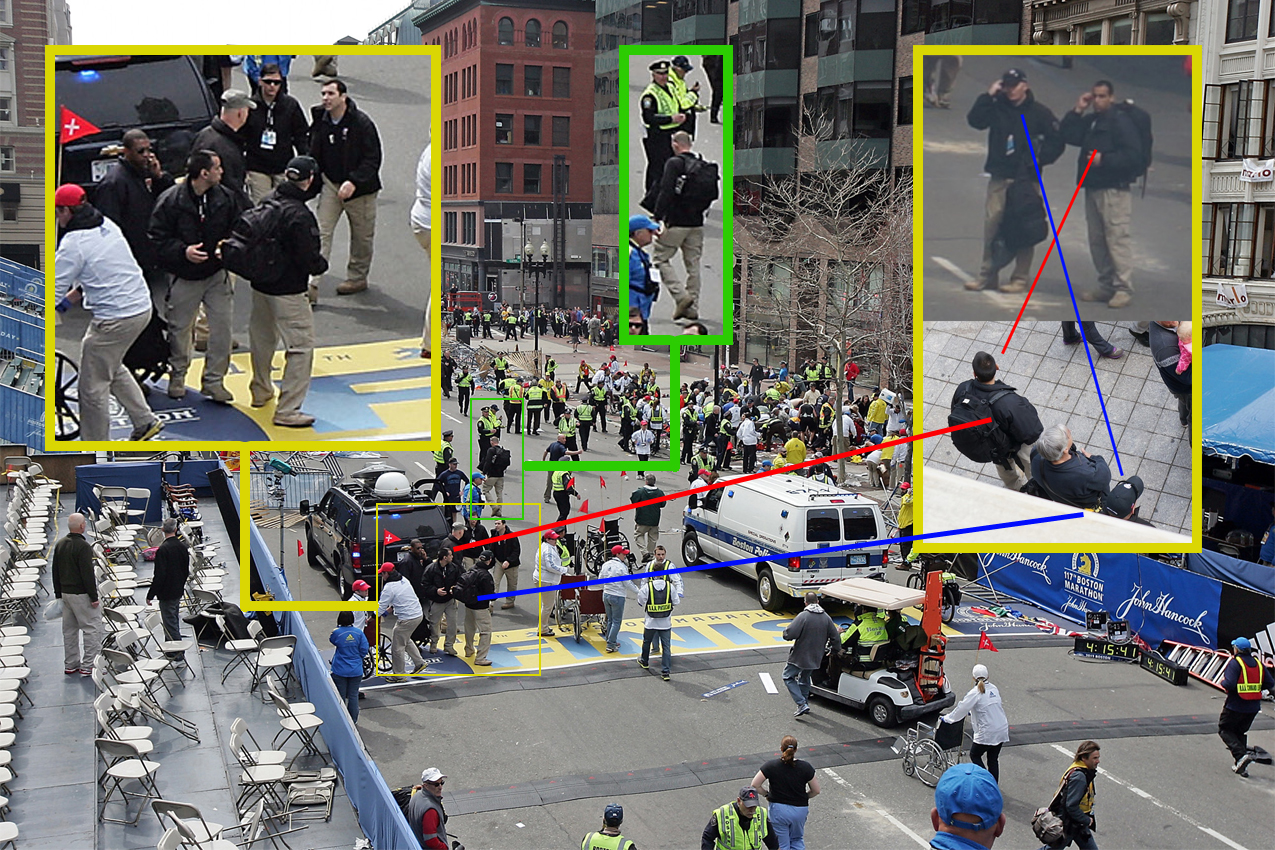 Lots and lots of time was spent analyzing the backpacks that the Craft operatives were wearing that day.  But most of that energy was wasted because the Craft backpacks were compared to that backpack that so many think was identified as the pack that carried the bomb, the same backpack I could find no proof that anyone in authority had declared to be the actual bomb-carrying backpack.  Until someone with the FBI, the US Attorney General's Office or even the Boston police say without a doubt that was the pack that carried the bomb, all the analysis of the Craft bag to the bag shown so much in the media is just speculation.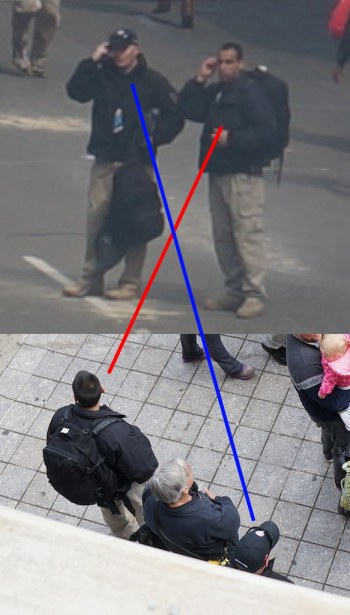 But I cannot emphasize how much conspiracy theorist energy was spent discussing the backpacks.  Tons of circles and arrows again.  Just teeming with arrows and circles.
This theory has some legs because no one in authority will explain whether or not those men were Craft operatives, and, if they were, what they were doing there that day.
The best debunk to the entire notion that Craft Agency employees detonated bombs against American people is that it is hard to maintain much in the way of secrecy when one is wearing a uniform with a traceable logo, in the company of others dressed identically. Surely if the American government were going to engage in a conspiracy against the American people that involved hiring mercenaries to kill American citizens and then blame it on patsies, the actual bombers would have kept a lower profile and not worn clothing and engaged in behaviors that all but screamed, "Hey, Craft employees over here!"
A false flag is hardly a false flag if the hired perpetrators make themselves known at every turn and appear in dozens of photographs as being on the scene in gear that rapidly identifies them as being a part of a cohesive group whose presence cannot be easily explained.
ETA on 5/28/13:  A commenter named GG gave me a link to an article on the Randi forums that goes a long way towards explaining why the men in black caps and khaki pants were at the Boston Marathon.  On the Homeland Security Today website, it's explained that the National Guard has what are called Weapons of Mass Destruction Civil Support Teams (WMD-CSTs).  GG gives an excellent summary of the information over on the JREF forum.
This is what WMD-CSTs do, straight from the HST website:
Since 2001, CSTs have served as full-time, federally funded National Guard units supporting local civil authorities in responding to events known or suspected to involve weapons of mass destruction, whether it be hostile use of chemicals such as nerve or blister agents, toxic industrial chemical spills, biological events (anthrax, ricin, etc.) or radiological sources.

"The mission is that they will support civil authorities at a domestic CRBNe site by identifying CBRNE agents and substances, assessing current and projecting consequences," advising on response measures and assisting on appropriate requests for additional support, explained Frank Hudoba, National Guard Bureau Branch Chief for the Weapons of Mass Destruction/Civil Support Teams. "We're able to respond to an actual or suspected terrorist WMD incident and intentional and non-intentional release of CBRNE materials or natural or man-made disaster in the United States that has caused or can cause catastrophic loss of property."
The WMD-CSTs also attends events to offer support in the event of an attack.
They were also called upon for 504 standby missions in support of large-scale events, including national and state special security events, stadium and arena sporting events and political gatherings where the WMD-CSTs, in cooperation with local first responders, provided air sampling and chemical detection or similar activities.
And in fact, the government has indeed revealed that the WMD-CSTs were on the ground in Boston the day of the attacks:
The Massachusetts team was on duty during the running of the Boston marathon, augmented by similar civil support teams from the New York and Rhode Island National Guards.
Evidently even InfoWars and Ron Paul's site of many horrors have admitted that the men with the Geiger counters were WMD-CSTs, putting a rest to this theory in the eyes of most reasonable people and even most of the moderate conspiracy theorists.
None of this information will do anything to deter the false flaggers who are certain our government would kill American citizens in an attempt to… again, whatever it is they think the government would gain from making it seem like some hostile force blew up citizens watching a marathon when the government was responsible for the murders.  For those false flaggers, it makes perfect sense that highly trained representatives of the National Guard would kill innocent people in a disguised use of illegal force against American citizens.  But for the rest of us, this can effectively put to bed the identities of the men in the black caps and why they were at Boston that day because it makes infinitely more sense, Law of Parsimony-wise, that the WMD-CSTs would be on hand during a major sporting event that also fell on Tax Day and Patriot Day than that the government would have the National Guard killing citizens for strange goals that vary by the person flogging the theory.
Thanks for the info, GG!