This post originally appeared on Houdini's Revenge
11/28/15: Via several search strings leading people to this entry, I learned Dave McGowan died on November 22, 2015. He was diagnosed in late spring with a very aggressive form of cancer and it sounds like he spent the last six months of his life suffering physically and financially. No matter how much I disagreed with him in some areas of research, this is all quite unpleasant to find out. He was an interesting man who influenced large swaths of alternative thought and this is sad news to all who have read his work, especially his very interesting works about Laurel Canyon. God speed, Dave.
6/6/13: Let's keep McGowan's pet name for me over on his site, ironic usage included. I want real discussion, not strange men cursing at me with such unoriginality they can only muster someone else's anger. Seriously.  If you must call me names, may I suggest you just stick your tongue out while yelling "Neener neener!" at your computer screen.  Undignified to be sure but it's not like discussing conspiracy theory is a particularly noble endeavor.
5/27/13  Please note:  I appreciate the impassioned responses this entry has received and I like to reply to comments when applicable.  I do, however, have other things to accomplish, like other entries in the Boston Bombing series, as well as discussions on my other site, and cannot continue to give comments the attention they deserve as it is eating up so much of my time.  Even though I no longer have the time to engage on this topic  – and that is my fault for I had no idea this would generate much in the way of a response – comments are still open.  Follow my comment policy and I am only too happy to let commenters give their opinions.  My lack of response is just due to time.  True Believers may interpret this comment however they please.
(Note:  I noticed yesterday that Dave McGowan's site was throwing up "bandwidth exceeded" messages.  If this is a chronic problem with his site, I may not continue on and discuss the rest of his entries because it's hardly fair to readers not to be able to see the source I am analyzing, even as I quote liberally and use the exact pictures he uses. Upgrade, Dave!  Even as I dislike this theory, your Laurel Canyon stuff is fascinating!)
A reader here, who is a conspiracy theorist whom I respect and enjoy talking with, directed me to Dave McGowan's "Special Report on the Boston Marathon: The Curious Case of the Man Who Could Only Sit Down."  I read through it and immediately found a lot of problems I wanted to address.
I had spent three days writing my analysis of McGowan's entire theory when my husband pointed out to me that McGowan had split his article up into three parts, adding large, new chunks of material at the end and adding smaller bits of new information in the parts I had already covered, specifically information about Christian Williams.  I had been working out of the same, unclosed window for days and had not noticed these changes.  Because accuracy matters, I changed my discussion to mirror McGowan's work, and will be splitting my discussion into three parts.  If anything I quote here appears to have changed since posting this debunk, let me know and I will post the screen shot of the entire entries I responded to.  Please note that this analysis for Part One comes from the entry McGowan had posted as of 5/15/2013.
I don't think I've ever encountered this sort of thing before.  All bloggers I read indicate when they have edited content.  I personally prefer to leave content as it stands and include an edit with the new information.  You can see this at work in my entry on The Franklin Cover-Up.  It's important to have this sort of information integrity because otherwise you are forcing your readers to check back with your entry literally every day lest they be accused of misquoting you, which will definitely happen when discussing conspiracy theory.  True Believers love to read ill-intent in the smallest of errors and had my husband not seen that McGowan had, in fact, added large sections to his work and split it up into three sections, I can't imagine the attacks that would have been lobbed my way.
I have the original I initially responded to and checked to see if there was some manner in which McGowan communicated his new material.  His font sizes change often in his work and I initially had hoped smaller font was indicative of edited material, but that did not prove to be the case as unedited material was also in smaller font.  There was nothing in any of the three sections to show the reader that he had been adding to his original work, other than the obvious fact that he had broken his first entry into three smaller entries.
Very strange, but at least I noticed before I posted so no harm done.
I found myself in an odd position debunking McGowan's theory.  Though this is only the second entry in my Boston Bombing Theories series,  I have several other entries in my drafts folder that need a bit more research or need to be edited before I post them.  None of them have inspired in me the level of anger I experienced reading McGowan's theory, but then again, it's early days.  Perhaps more of this is in store for me.  Still, it was, at times, nauseating to read such a virulent lack of respect for the Boston Bombing victims.  Throughout his articles, McGowan engages in a near Stalinist desire to unperson people who have suffered grave harm in order to prove a theory that involves more supposition on his part than it does actual proof.  He insults the appearance of one victim, he demeans the dead and he outright mocks serious injuries because he claims it is clear victims were not wounded.  He bases this opinion solely on his observations, which often appear strange as the pictures show gravely injured people.  Or at least they do to those not pushing an agenda.  It's hard to maintain a tone of civility when one encounters such a shocking lack of basic human decency.  I'm sure McGowan is a great man and thinker in many respects but his Boston Bombing Theory doesn't necessarily reflect that.
Let me also repeat here that I don't have a theory as to what happened at Boston.  I am withholding judgement until the government makes a full case against Dzhokhar Tsarnaev.  It would be very nice to see the video the FBI claims shows Dzhokhar Tsarnaev placing the bomb and the letter he is said to have written on the wall of the boat where he hid after the Watertown shoot out, especially the latter as it just sounds so strange.  There has been too much bad information about this case to have much faith in anything that the public cannot see with their own eyes.
Because this is the first long debunk I have posted, I need to explain why I am discussing his theory line by line.  Lest it seem like I am beating up McGowan, I will likely need to examine every line of every conspiracy theory.  Most, if not all, theorists will insist that if a debunker fails to address every single bit of minutia in their theory, then they haven't debunked it.  And if they put as much work into their theories that McGowan has put into his, perhaps they deserve that level of scrutiny.  Having had people focus on one element of something I have to say rather than examine the whole of my argument, I understand how frustrating it is when people ignore large chunks of what I write.
I also need to tell you all that there is analysis of extremely bloody and graphic bomb scene photographs.  If you are squeamish or find such content offensive, you will want to give this section a miss.  So with all that out of the way, let's start discussing "Special Report on the Boston Marathon, The Curious Case of the Man Who Could Only Sit Down, Part 1."  Like most conspiracy theories, McGowan's theory about the Boston Bombing is muddled and at times I lost track of the point he was trying to make. Despite Jeff Bauman, Jr. being the ostensible focus of this article, as much time if not more is spent focusing on other victims.  It was difficult to see the logical end to all his speculation.
He begins by explaining that the media really wanted us to see the carnage in Boston:
The Boston Marathon bombing incident produced an exceedingly bloody, gore-filled scene. We know that because virtually all avenues of the mainstream media, as was obvious from the very first reports, wanted us to know that. Never before can I recall seeing so many blood-soaked images being so prominently displayed. Newspapers and network and cable news broadcasts seemed to be on a mission to bring you the bloodiest, most graphic images they could come up with. The most disturbing of those images, by far, all involved a guy who had reportedly just had both of his legs blown off. The most heavily circulated and iconic of those images are of the legless guy being rolled away from the scene in a wheelchair, his unbelievably graphic wounds uncovered and on full display for the waiting cameras.
1)  The media showed those images because they were what happened that day.  Were the photographers and cameramen supposed to focus on broken windows and the property damage?  It is, in my opinion, disingenuous to read much into the media showing us the blood because that was what happened – people were injured.  I would be far more suspicious had the media pointed their cameras to their feet and showed nothing.
2)  I'm not sure what media McGowan watches but the media I've seen cover terrible, bloody events all the time.  I'm unsure how it is he can maintain such a stance because during every bombing wherein there is a large crime scene, we see a lot of terrible things.  Anyone remember the fireman carrying a dead child from the Oklahoma City Bombings?  Anyone recall the images of people jumping from the World Trade Centers?  We don't see a whole lot of nasty bombings like this in our country, bombings meant to cause harm to people rather than destroy symbols of the American infrastructure.  This is the first mass bombing of people in the outdoors since the Atlanta Olympics bombing in 1996, and that bombing paled in comparison to what happened in Boston, so perhaps it is easy to lose sight of how the media handles terror on this scale.  But if there's a bloodbath, there will always be reporters trying to show us the bloodbath.
3)  I am unsure how McGowan would have had medical personnel and bystanders get Jeff Bauman, Jr. to help without it being graphically visible to the cameras.  Had he been strapped down on a gurney, the horror of his legs would still have been visible and still would have been all over our TVs.  Moreover, the wheelchair is important because it shows that Arredondo and others on the scene recognized how terrible Bauman's wounds were.  Had they waited for a gurney Bauman might have bled out.  But understand that there would have been little way for Bauman's injuries to have been hidden regardless of how he had been transported to help.
McGowan goes on:
How crazy would it sound to suggest that that did not happen by accident — to suggest that not only were his injuries staged, but that they were specifically designed for that high-profile wheelchair ride? Pretty crazy … right? After all, I have in the past been rather critical of other researchers who have alleged that the victims of high-profile mass murders are actually actors. Nothing, it seems to me, could possibly serve to better alienate and offend the general public than attacking the victims as being part of the conspiracy. But what if the evidence is so overwhelming that it simply cannot be ignored?
1)  It would be very crazy to suggest that this did not happen by accident.  Keep reading, I'll show you how crazy it would be.
2)  Given how utterly alienating McGowan's text will become, perhaps he should have kept in mind how critical he has been of others who engage in "it was all staged" arguments.  Believe me, he alienates and offends in this article and has no real evidence at all, let alone anything so overwhelming it was worth demeaning the dead and mocking the wounded.
In fact, I assert all of his evidence is subject to criteria that only McGowan and similar false flaggers can see.  As I will demonstrate, he often misidentifies the pictures he looks at, he inserts pictures out of sequence, he has no idea who was where in the pictures he presents and he has difficulty marrying different photographic perspectives into one coherent view.  Moreover, he has a very special idea of what it is that happens to people during shock, he contradicts himself in his claims of what the "actors" were doing, and makes claims that are not even close to being borne out in the very photographic evidence he presents.  All in all, he would have been far better off sticking to the notion that to deny the dead and mock the wounded is a bad course to take unless one really does have iron-clad, undeniable proof in the matter.
 I need to be very clear here in stating that I am not arguing that no one was injured in the attack and that there was no real suffering. That undoubtedly was not the case. But the fact remains that the most high-profile of the victims, who also happened to be by far the most gruesomely injured of the victims, and the guy who purportedly provided the tip that allowed authorities to identify the alleged perpetrators, appears to have been a fake. And though we were told that there were numerous people who lost limbs that day, he is the only one the media chose to put in the spotlight that day.
Given that media outlets from The Huffington Post to the Atlantic Wire to mainstream television censored out Bauman's injury when the public called them out for showing such gore, and that the gravity of the injury was made most public by non-mainstream media online venues like Reddit and 4chan, a large chunk of McGowan's theory is down the drain. But the idea that Bauman "appears to have been a fake" is interesting. How does McGowan come to this conclusion? Well, he has a lot of supposition, most of which doesn't offer any proof and a lot of it is outright incorrect.
McGowan then says we need to take a closer look at "Wheelchair Guy."
To begin with, the guy's name is supposedly Jeff Bauman. The posted photos of Bauman, however, do not really resemble the wheelchair guy.
What posted pictures? Citation needed.  What pictures are McGowan saying don't resemble "wheelchair guy?" No idea, but an image search on Bauman shows plenty of pictures of him that are clearly that of the "wheelchair guy" and they existed long before the attack. I know the conspiratorial mind will say that those pictures were planted in some manner but the pictures of Bauman online certainly resemble the Jeff Bauman, Jr. whose legs were blown off.  And unless anyone can prove that Jeff Bauman, Jr. did not work at CostCo, did not go to college and have very real student loans, that he in fact never existed and that all the people who know him in real life are just part of the conspiracy, then any notion that information could be created to form a false existence is the sort of claim anyone could make about anyone on this planet.
If I were intellectually dishonest enough, I could deny the existence of every single person reading this entry via continually moving the goal posts and refusing to accept any evidence that refutes my depersoning. The burden of proof to say Jeff Bauman, Jr. is not who he says he is is on the side of those who make that claim.  The common tactic is to engage in logical fallacy and force those who deny the claim to prove Bauman does in fact exist.  When facts are brought forth, those who say Bauman did not exist or was not who he said he was will reject that evidence as being manufactured.  Cool position, no?  Engage in two logical fallacies – burden of proof and moving the goalposts, and then insist that no one can prove you wrong because all their evidence is manufactured or they are a part of the conspiracy.
In addition, the initial identification of Bauman came via an unverifiable Facebook post. In fact, virtually everything that has been reported about Bauman to this day seems to have come from unverified Facebook posts, though the info has been reported as fact.
McGowan's verbiage here is vague, though I assume he means that people became aware of Jeff Bauman as bombing victim via a Facebook post, but really, his stepsister recognized him from the infamous photos and called his father in shock. If McGowan means that there was nothing that verified Jeff as a victim other than a Facebook page, I'm unsure what he wants as proof. A federal decree that mentions Jeff Bauman, Jr. as victim? Bauman's father posted a Facebook announcement but it is decidedly untrue that everything reported about Bauman came from a Facebook page and much of the reporting in the media about Bauman definitely did not come from a Facebook page. Had McGowan sourced this information in some manner, it would have been easier to suss out what he means but alas, it's just vague assertions.
Those posts have largely been credited to Jeff Bauman, Sr., though no reporters, as best I can determine, have actually located and spoken to the senior Bauman.
And? Had my legs been blown off, I can assure you Mama HRev would not have been available to reporters.  That's just how she is, and the decision to interact with the media or not to interact are both valid.  Little can be derived from the decision to interact or not to interact.  So why do we need the media to track down Bauman's father and hold an interview with him in person? What difference could that make? But none of that matters because Bauman Sr gave an interview to the New York Times that includes a picture of him. The NYT interview is not obscure and it took me less than three seconds to find that article.  McGowan's assertion that no media has located or spoken to Bauman, Sr. is completely wrong.
Reports claim that Jeff, Jr. was supposedly waiting at the finish line for his girlfriend to cross, but that girlfriend has never been identified and has not come forward to speak to the press.
Again, why do we need to know the name of his girlfriend and why does she need to talk to the press? But more to the point, she has been identified. Her name is Erin Hurley and plenty is known about her, from the high school she attended to the name of the friend she ran the marathon with.  Please note that the bulk of information about Erin Hurley was online before 5/7/13, the date McGowan posted part one of his three part article.
And Bauman himself, though healthy enough after just 19 days to attend a Boston Bruins hockey match, has not been sought out by or interviewed by anyone in the media.
1) How long does McGowan think a person needs to remain in the hospital after having their legs blown off? No idea because he doesn't give any sort of guideline that he considers reasonable. However, a quick Google shows that the average stay in the hospital after an amputation is seven to ten days. Physical therapy is done on an outpatient basis.  Bauman needed abdominal surgery the day after his amputations, which added to his stay, but his hospital stay was longer than the average stay and well within guidelines for recovery.
2) Bauman's appearance at the Boston Bruins game was a media event. He was sought out by the media and he appeared.
3) Bauman has given an interview. A basic Google would have shown this – the interview pre-dates the post date of McGowan's article.
McGowan at least does not get sucked into the Jeff Bauman, Jr. as Nick Vogt theory, but he is of the opinion that Jeff Bauman, Jr does not exist and only uses his name condescendingly for the purposes of the article.
I don't pretend to know who the no-legs guy actually is, but I do know that the evidence overwhelmingly suggests that he did not lose his legs at the Boston Marathon. For the purposes of this post, we will refer to him as Jeff Bauman, though I am not at all convinced that that is his real name.
This is horrible. What level of proof does this injured man need to show he exists?  Google is riddled with references to him before the attack, including pictures. We know where he went to college, where he worked. He has a Facebook with friends who know him in real life. Doctors operated on him.  Friends and family rallied to his side.  What more proof does he need to show he exists? Just as an example, my own husband is a quiet, private guy. He has a LinkedIn, he seldom uses Twitter, he has no Facebook, and few pictures of him exist outside of my Flickr account and those are not labeled with his full name. There is less online to prove he exists than there is Jeff Bauman, Jr. and I assure you he exists. Had he been injured in the attacks, I can't imagine the field day conspiratologists would have with him, especially since he is ex-military. Jeff Bauman, Jr. is exactly who he says he is and those who claim he isn't use the worst sorts of speculation and bad analysis to deperson him, a tactic one associates most commonly with dictatorial and tyrannical excesses. It's vile.  To deny a person his identity based on half-baked assertions is vile.
Here's McGowan's evidence for why Jeff Bauman, Jr was not injured or who he says he is and why large chunks of the first bomb scene were faked.
According to the official narrative, Bauman was all but straddling backpack bomb #1 when it went off. As reported by Bloomberg News, "Bauman was waiting among the crowd for his girlfriend to cross the finish line at the Boston Marathon. A man wearing a cap, sunglasses and a black jacket over a hooded sweatshirt looked at Jeff, 27, and dropped a bag at his feet, his brother, Chris Bauman, said in an interview. Two and a half minutes later, the bag exploded, tearing Jeff's legs apart." Curiously, that alleged brother has not been seen, photographed or spoken to by any other media outlet. http://www.bloomberg.com/news/2013-04-19/boston-bombing-victim-in-iconic-photo-helped-identify-attackers.html
Bloomberg is hardly obscure. How many major media outlets does Chris Bauman need to speak with the satisfy McGowan? Two?  19? 175? He spoke to the media yet McGowan tosses out that interview as meaningless. Again, it seems very much like there is not enough proof for conspiratologists and they don't mention a baseline of information that would soothe them (because often they engage in moving the goal posts, continually asking for more and more proof to the point that Bauman could have given a DNA swab in front of them, clutching his birth certificate, his drivers license and his Social Security card with 15 verifiable witnesses and it would not be enough).
I hope I am not seeming cruel to McGowan here, but he proceeds to deperson several other people simply on the basis that he doesn't think their real names could possibly be their real names, notably Christian Williams and Nicole Gross. No proof other than that he just says it seems unlikely he is called Christian and she is called Nicole. Again, that's vile.  He calls the black woman who collapsed on top of Bauman "Redcoat." Admittedly she was wearing a red jacket, but the traitorous implications of this nickname are clear. McGowan's utter contempt for people who were gravely injured is startling.
McGowan then sets up his "cast of characters."  He begins with Arredondo, and if this all starts to get jumbled, please know I am just following McGowan's lay out.  McGowan lists several sources that explain Carlos Arredondo's actions.  I am quoting only one here, and lest I be accused of cherry picking, I am quoting the one McGowan thinks is the most detailed.  Emphasis is mine, because we will come back to this after McGowan is finished demeaning the victims.
The Daily Beast provided one of the most detailed accounts of Arredondo's heroics: "Carlos Arredondo was in the bleachers by the finish line of the Boston Marathon when the first bomb went off directly across the street … In the next moment, the 53-year old was vaulting a barricade and racing straight into the acrid cloud …" He immediately located and rushed to assist Bauman. "A second bomb went off 100 yards away. Arredondo kept his focus on the young man …" In other words, he had worked his way down from the bleachers, raced across the street, vaulted the barricade, located Bauman amidst the smoke and confusion, and already begun to assist him – all within less than 15 seconds! I think we can all agree that heroes of that magnitude aren't born every day. http://www.thedailybeast.com/articles/2013/04/16/carlos-arredondo-boston-marathon-hero-in-a-cowboy-hat-on-the-bombs.html
McGowan goes on:
Another guy we will be seeing a lot of in the images that follow is allegedly named Christian Williams, but we will refer to him as "the hoody guy" or just "hoody" because I seriously doubt that that is his real name. Hoody guy was right alongside Bauman at the time of the blast and, like Jeff, he sustained very serious, life-threatening wounds.
I will be referring to him as Christian Williams because that is his name.  Since McGowan offers nothing to give any reason why he depersons Williams by referring to him by an article of clothing he wore, I see no reason to follow his example.
McGowan goes on to discuss information from a Go Fund Me page wherein friends of Christian Williams and Caroline Reinsch try to raise money for their expensive medical costs. This was one of the passages he added after I had completed my first version of this debunk, and he adds it because he thinks it shows Williams to be an actor.  That is the sole reason to pay attention to this so it can remembered when McGowan looks at the pictures of Christian Williams and sees a man without a single injury.
According to a fundraising page put up by someone claiming to be a friend of hoody guy, he remains in the hospital and has endured numerous surgeries aimed at putting him back together. Here are a few (very poorly written) excerpts from the page: "[Christian] remembers quite vividly that a Boston Marathon runner who is also a surgeon, came to his rescue. He remembers the man was able to get people to help him apply tourniquet to each of his legs, he hollered out 'if we can get this guy out on the next transport he has a chance, otherwise he's going to die.' That's when he realized how serious his injuries were … Christian is indeed lucky that his legs will not have to be amputated … Here's the latest update from Christian … 'today I met a few of my saviors … Standing before me were the three members of the Boston EMS who were directly responsible for keeping me alive and getting me swiftly to the hospital. Apparently, they had been speculating about my outcome for two weeks and decided to surprise me with a visit, because I was by far the most seriously injured patient they treated that day, and that they had not expected me to make it. They had applied not one, not two, but three tourniquets to my left leg, yet still my blood poured down off the stretcher and onto the floor. Both of my femurs were exposed and they were applying pressure to keep them in place. My right leg was so badly wounded from top to bottom they thought for sure it was gone. My blood pressure was nowhere to be found, and they were calling ahead and alerting the trauma team that I had turned ashen.'" Elsewhere on the page, it says that, "Christian's right hand was also partially 'degloved', meaning he has no skin left on his last three fingers." http://www.gofundme.com/ChristianCarolineFund/
Seriously.  He critiques the writing of people writing extemporaneously on a charity blog.  For the love of sanity…
He continues with his depersoning:
Also right alongside Bauman at the time of the blast was a young woman allegedly named Nicole Gross, who was waiting at the finish line with her sister. We will be seeing quite a bit of Nicole as well. Also with her was her husband. According to an account in the Charlotte Observer, Nicole and her husband were taken to the hospital together. While her husband sustained only minor wounds, Nicole and her sister were far more gravely injured. Nicole's injuries included two breaks in her left leg, a fracture in her right ankle, torn skin, and a severed Achilles tendon. Her sister fared even worse, losing her left leg below the knee and suffering a compound fracture in her right leg, a broken right ankle, and broken bones in her foot. While I seriously doubt that her name is really Nicole, I will play along and use that name for her in this post. http://www.charlotteobserver.com/2013/04/16/3985154/some-from-charlotte-are-among.html
Again, despite the fact that Nicole Gross has a long online presence proving exactly who she is, including details of her work life, McGowan just doesn't think that could be her name.  Also know I will be calling her husband and her sister by their names: Michael Grossman and Erika Brannock.  Please make note of this injury list because McGowan will be using it to demean Nicole and to insinuate she wasn't injured at all.
Then there's this:
There is one more person we will be seeing a lot of, a black woman dressed in black pants, a white top and a red sweater. She was also in the grouping around Bauman when the first blast occurred, which means that according to the official version of events she was also nearly straddling the supposedly shrapnel-laden bomb. As best I can determine at this time, she has not been identified and so will here be referred to as "Redcoat."
Already covered this above – I will not be calling her Redcoat.  I will be referring to her as the black woman or the black lady because the notion of using a description that so clearly denotes the idea that she is somehow an enemy of America sickens me.
So after this, McGowan begins to set up his arguments, using pictures and what I consider to be very interesting interpretations of those pictures to prove his argument.  I will be using the exact pictures he uses in the order he uses them.  I skipped his picture he uses of Jeff Bauman at the hockey game as I didn't see how it added to the analysis.  I will label these pictures simply so I can compare them when needed, and not to make any comment on McGowan's lay out.
McGowan Picture 1

So already, we have a bit of a problem with the Cowboy Hero's version of events: he clearly did not immediately vault over the fence to get to victims and he just as clearly was not at Bauman's side within "moments."
Carlos Arredondo vaulted over the fence that surrounded the bleacher area where he was sitting. He did not vault over the fence on the side of the street where the bomb detonated and context shows that. Go back and read The Daily Beast discussion above of what he did.  In order: he vaulted the barricade that surrounded the bleachers, he raced into the smoke on the other side of the street, and then began to tear down the fencing so he could reach injured people. He was indeed by Bauman's side in moments because the fence was pulled apart enough to let people through in under two minutes and then completely pulled away.  Even had Arredondo waited until the last picket was torn away, he still would have been by Bauman's side in three minutes or so. A moment is a minute, not a second. McGowan has completely misunderstood the sequence of events, even as there was context to show him the correct order in which events occurred, and even as the events were laid out sequentially in the very quote he uses and then misunderstands.
McGowan next sets up his thesis – that part of the first bombing site was staged.
The fact that there were relatively few witnesses at the blast location, coupled with the fact that would-be rescuers were held at bay for the first few minutes by the temporary fencing, would have provided an ideal window of opportunity to stage the scene, if anyone had been inclined to do so.
It outright beggars belief that even the most talented stage make-up artist with a team of a dozen assistants could have raced in, applied all the prosthetics, make-up, injuries and blood in the few minutes of smoke.  It's all the more unbelievable because there are pictures of the horror within the smoke and clearly the only people there are the people who were injured.  But that's McGowan's thesis, even as he produces pictures as proof that will give lie to his own speculations.
Admittedly, given the extraordinary number of errors already found in McGowan's article, I was not hopeful as I read on.  But I did read on and gave McGowan's analysis as serious a consideration as I could. Emphasis mine:
Below is the first post-blast image of Bauman, taken from a surveillance video. He can be seen to the left, just in front of Redcoat. Just behind her is the hoody guy. Barely visible to the far left is Nicole Gross. Hoody, Nicole and Redcoat are all three huddled closely around Jeff's freshly mangled legs. The smoke is still pretty thick in this image so we can't discern much, but we can see that from the earliest moments after the explosion, both of Bauman's stumps are at right angles to his body. And the lower leg on the longer stump, though it can't be seen from this angle, is at a near perfect right-angle to the upper leg. Both of his stumps, in other words, are in a sitting position. And they will remain in that very same orientation, without even minor changes, throughout his ordeal. Also worth noting is that the shorter stump looks considerably different here than it does in later images.

McGowan Picture 2
It is a big deal to McGowan that Bauman kept his knees bent after his legs were blown off.  I have no idea why because he never explains in part one and lots of research on my part revealed nothing odd about a man holding his legs bent at the knee when his shins have been blown off.  Nothing.  Nowhere.  And McGowan himself never bothers to explain why this is important.  Perhaps he brings it up in part two.  Also note that he never compares the shorter stump to the pictures wherein he claims it is longer.
Additionally, these are not surveillance photos.  They are zoom-ins and crops of the Ben Thorndike pictures and I suspect that McGowan did not crop them himself, but rather found them online after Redditors and 4chan had zoomed in and cropped them.  I am a chronic insomniac and spent hours watching as Reddit pored over every new photo.  I recognized the Ben Thorndike photos immediately.  I am almost certain that McGowan did not know that he was using crops of the Thorndike pics but that is where the bulk of his photographic evidence in part one comes from.  When the first bomb went off, Thorndike was in a building overlooking the carnage and began to take pictures.  He hit the rapid-shutter and took many pictures in rapid succession, 25 in all.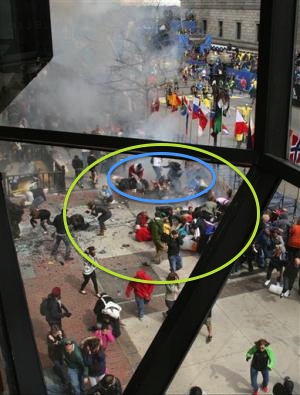 However, I think that if McGowan had known to look for the full images, it might have shown him the sort of circle of carnage the bomb caused.  There were arcs of damage that show a pattern of how people fell when the bomb debris hit them.   The wide scope of the Thorndike images shows a completely different picture than the crops.  Have a look at this full Thorndike image, uncropped and without closeup.
The blue circle shows the scope of the carnage that McGowan concentrates on in his theory.  The yellow-green circle shows the entire area of the heavy carnage.  This will be important later to show how it is that people could have appeared in pictures.  McGowan seems to think they came out of nowhere, because using the crops to prove his case indeed makes it seem that way.  But really, people missing limbs, on the ground, were there all the time, in some cases just a few feet away. They may have been moved by helpers (so many fell in clusters that first responders had to move them to give them aid) or they crawled to different places.  But they certainly didn't come out of nowhere.
Moving on to the second image, we can clearly see that the hoody guy, mere moments after the blast, is primarily concerned with donning his sunglasses. Some web posts and videos have claimed that this was to send a signal to Redcoat – which seems rather unlikely, I have to say, given that the two are obviously close enough to signal each other verbally. Far more likely is that hoody guy was mostly concerned with concealing his identity. He will remain in the hoody and shades for as long as he is on the set, even while receiving medical attention. We can also see more clearly here that Redcoat, Nicole (now visible) and hoody guy are all within inches of Jeff, with his freshly amputated limbs pointed directly at them. In fact, Jeff's longer stump appears to be wedged in between Redcoat and Nicole. All three accomplices, nevertheless, will emerge from their ordeal without so much as a drop of Johnny's blood on them. Also, none of the three appear to have received any significant injuries despite having been right alongside a guy who supposedly got both his legs blown off.

McGowan Picture 3
The problems with this passage are near-legion.
1)  "Hoody" didn't do a very good job of hiding his identity because we know he is Christian Williams.  And he remains in his hoodie jacket and sunglasses the entire time because he was wearing the hoodie when he fell and because he put on sunglasses.  Putting on sunglasses is not that strange. And if he was trying to hide his identity, he sure blew it with that charity page with his name and his images.
2)  People do all kinds of strange things but were I in the middle of a bomb site and there was smoke and debris, perhaps wearing sunglasses would help me protect my eyes.  Or perhaps he was just in shock and just automatically returned the glasses to his face.  There is an ocean of interpretations of why Williams put his glasses on that are far more amicable to the Law of Parsimony than a man putting on sunglasses because he is an actor in a stage bombing in a false flag attack.
3)  Are you kidding me?  No one else but Jeff received terrible injuries?  Nicole's sister, who is named Erika Brannock and who will come up later in this analysis of mine, lost a leg.  She fell a few feet from her sister and to the right of Bauman as you look at the above picture.  Nicole Gross suffered compound fractures, multiple soft-tissue injuries and a broken ankle. She has had four surgeries since the bombing.  Christian Williams suffered soft tissue injuries and a partially de-gloved hand, which we will address soon.  The black woman in the red jacket appeared to have head injuries, but we don't know, and since we don't know even her name, it is sheer speculation on McGowan's part to say she had no serious injuries, though his own pictures will later prove this assertion wrong.  I didn't link to any specific sites here but should you decide to Google, you will find all this information is true and out there.  It would appear that Bauman got the worst of it – in bombings it is not uncommon for a handful of people to be more injured than others – but it is an outright misrepresentation to say none of these people had significant injuries.
Do you see the woman in the blue shirt, the blonde woman near the wooden pickets?  She's screaming?  Right above the lady in the pink vest?  Take note of her.  She will come up again in parts two and three.  McGowan claims "two dead women" appeared out of nowhere to make the scene look more grim but they were in the frames of the very pictures McGowan uses and he didn't seem to recognize them.
4)  None of them had "Johnny's" blood on them?  How would you know this when they were all covered with blood of their own.  But even so, the black woman's shirt is covered with gore from Bauman's legs.  Covered in it.
It goes on, and this passage shows clearly that McGowan isn't familiar enough with the pictures to comment on them accurately.
In this third image, we can now see the right-angle bend in Jeff's remaining knee. We can also see that the bony stump is all but poking Redcoat in the head (which seems, even under the circumstances, kind of rude). And it is clearly pointing directly at both Redcoat and the hoody guy, both of whom remain remarkably blood-free. We can also see that no one else in this scene appears to be nearly as gravely injured as Jeff. Also, Redcoat and hoody guy seem rather calm relative to most of the others in the scene, many of whom are in full panic mode. Lastly, there is no sign of hoody's wife, who was supposedly alongside him, or of Nicole's husband and sister, both of whom were allegedly alongside her.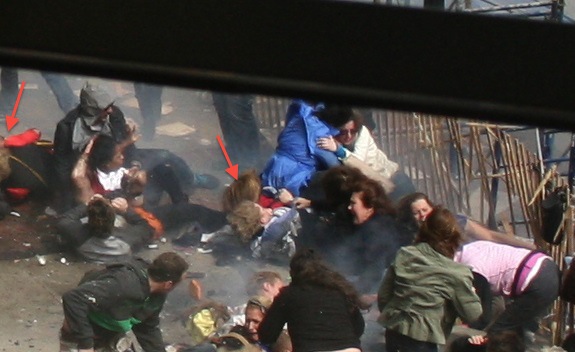 1)  Again, unless McGowan shows evidence of how one is supposed to hold one's legs after they've been blown off blow the knee, who cares if Jeff's legs are bent.
2)  Not touching the rude comment.
3)  Plenty of people are as bloody as Jeff.  Christian bled into his dark jeans and onto the ground.  Nicole's shrapnel wounds produced less blood and her broken bones were likely caused by concussion waves, which don't create bleeding.  You can't see all of the blood on many of these people because they bled into their clothing or out into the ground and their bodies are hiding the blood.
4)  No one else is as injured as Jeff in this picture?  Really?  McGowan doesn't know it, but off the top of my head, there are at least additional two leg amputations and one of the victims who died represented in his own picture.  Yes, I think bleeding out and/or dying of a concussion brain injury is worse than losing one's legs.  See the girl in the blue shirt, the one I mentioned above?  That's Krystle Campbell, the second fatality.
5).  I can't see Caroline Reinsch (Christian Williams' wife) or Michael Gross in this picture either but neither sustained injuries as bad as their spouses.  Moreover, since McGowan quotes the charity site devoted to raising money for Caroline and Christian, he should know why it is Caroline is not in the picture.  On the Go Fund Me page, it is explained that she was overwhelmed by fight or flight and ran from the scene.  McGowan is also wrong that Nicole's sister Erika is not in the picture. Taking the exact picture McGowan used, the arrow to the left is pointing out Nicole, the arrow to the right  is pointing out Erika.  If the sisters were standing close, where they ended up should show that just standing in proximity to someone doesn't necessarily mean that you will fall down with them.
Continuing on:
Moments later, we can see that Jeff and Redcoat seem to both be giving the very same hand signal in the direction of approaching responders while making eye contact with one another. Both stumps continue to be in a sitting position and both continue to point directly at Redcoat. It doesn't seem to have yet occurred to Jeff or anyone else to put pressure on his wounds. Hoody guy looks on passively while making no effort to offer assistance to Jeff. Indeed, neither Redcoat nor hoody guy ever make any effort to staunch the flow of Jeff's blood, which is okay since there doesn't appear to actually be any blood flowing. Meanwhile, Nicole has moved out of the shot.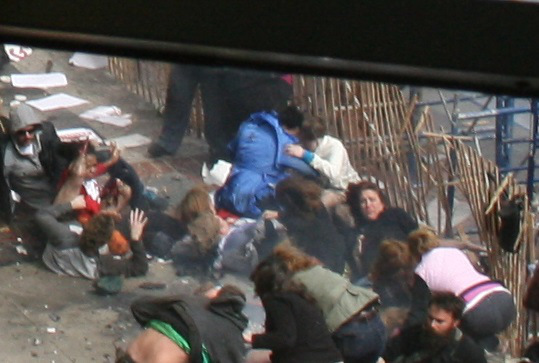 1)  Look hard at this photo McGowan uses to assert that Jeff and the black woman are giving each other hand signals.  I don't even know what to say. If you can look at this picture of two people trying to get their bearings after they were bombed and see malicious eye contact and significant gestures in their splayed fingers as they flail around, then you are looking at this scene in a manner that defies logic.
2)  It hasn't occurred to anyone to put pressure on Jeff's wounds because this is seconds after the bomb went off.  Literally seconds after the blast.  I think it would take the average person who has been in a bomb blast and received injury a bit more time to respond.  One also wonders how it is Jeff could tend to his wounds in a manner McGowan thinks fitting when his right leg, or what remains of it, is still pinned under the black woman.  Only his left leg is liberated.  So I think we can cut Christian and the black woman some slack – they were injured too, it was seconds after the blast, and Jeff's right leg isn't even visible.  Moreover, it seems that in McGowan's world no one ever suffers shock when they are injured in bomb blasts and immediately jump into action when they are victims of grave harm.  (But then again, the Thorndike photo series begins with the man in the shredded pants who ran away from the scene immediately and he has been called the bomber by many who say reacting quickly means he must have been in on the blast in some manner, so really, in the eyes of conspiratologists, these victims are damned if they do and damned if they don't.)
3)  Jeff was bleeding profusely.  The blood was under his body and hidden by those piled atop him, but later pictures show he was definitely bleeding.  The ground was covered in his blood.
4)  Nicole has not moved out of the shot.  She's just not in the crop of the Thorndike picture McGowan uses.  In every picture wherein the smoke has cleared enough for her to be seen, Nicole remains in every shot.  Don't take my word for it.  Don't take my word for anything.  I want you to research.  Have a look a this slideshow of the Thorndike pictures.  Get each picture and zoom in.  You'll see Nicole.
Let's continue.
This next series of images captures the same scene from a slightly different vantage point and at a higher resolution, revealing that hoody guy, demonstrating a considerable amount of manual dexterity for a guy with a 'degloved' hand, began working diligently on Jeff's stumps before the smoke even began to clear. And he did so without getting any blood on his hands.
Actually, McGowan is still using the Thorndike pictures, employing various crops of each of them.  McGowan uses three pictures to illustrate his above points, McGowan Pictures 5-7.  I will reproduce those pictures here in the order McGowan presented but be aware that my refutations apply to all three unless otherwise specified.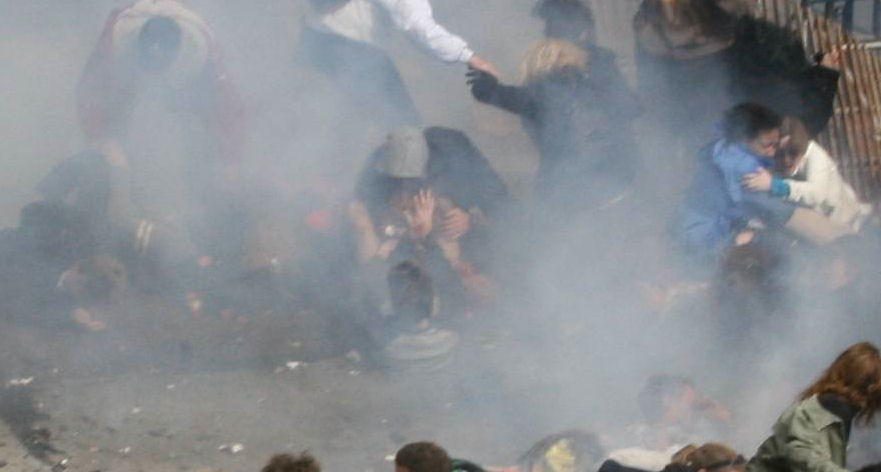 1)  You can tell by the smoke in McGowan Picture 5 that McGowan is offering the first of these three pictures out of sequence.  This picture was taken roughly a couple of seconds prior to the very first picture McGowan offers in his bomb scene analysis.  Seriously, have a look at the picture I have labeled McGowan Picture 1. You can tell by the positioning of the people in the bomb scene (the woman being helped to her feet is just beginning to be lifted up in McGowan Picture 5 – compare that to her position in McGowan Picture 1) and the level of smoke. So this picture offers nothing in terms of the sequence of events and shows a certain lack of awareness McGowan has about the materials he uses to prove his own case.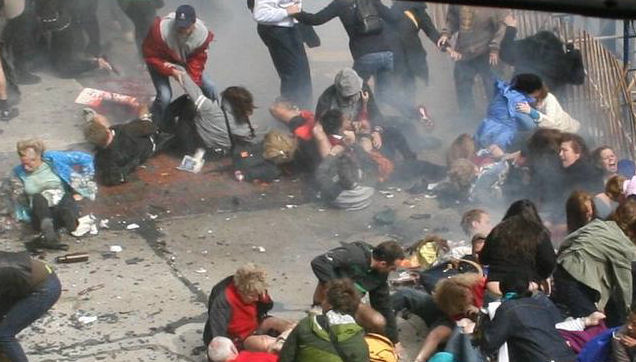 2) I can see no evidence in any of these pictures that Christian Williams is trying to staunch anyone's blood yet. That's not a belt in his hand to be used as a tourniquet.  Those are his sunglasses. It's fascinating that McGowan earlier takes him to task for not helping when the smoke has cleared but thinks he was, indeed "working on Jeff's stumps" before he accuses him of not helping. Which is it?  Was Christian Williams "helping" or just lolling about as Bauman bled out?  The black woman is still collapsed on top of Jeff – you can see her there pretty clearly.  Christian is just stumbling around here.  And I have not been able to find a single media source that says that Christian ever offered help to Bauman, as noble as that would be.  Of course, McGowan's setting this up for something else entirely (one assumes) but the facts are the facts.
Also note in this picture the arc of carnage I mentioned above.  You can clearly see that there is a heavy line of injury that is roughly a circle, with the center empty.  There is a whole other set of injured people below Bauman, Williams and Gross that can explain several of the scenes McGowan later will indicate were staged.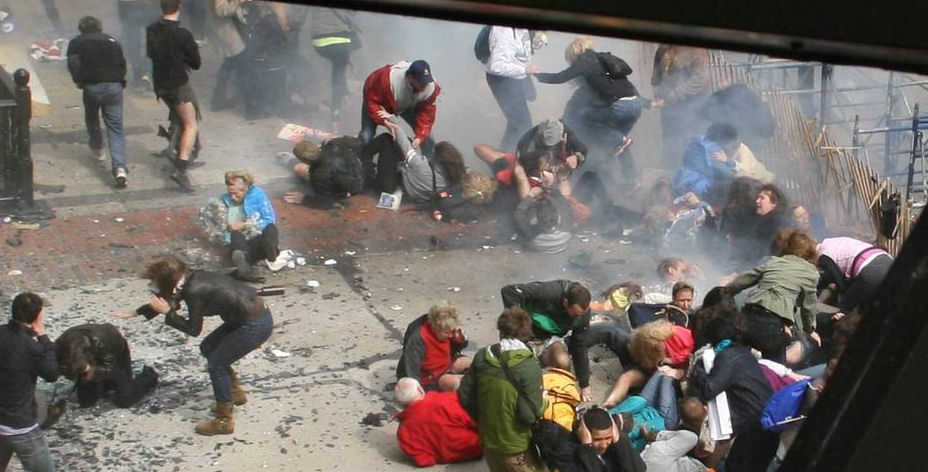 3)  Even if we can accept that Christian Williams was helping Bauman, it was his right hand that was partially degloved.  All we can see is his left hand.  In none of these pictures do we see his right hand. One assumes he did not lose any dexterity in the hand that was not affected in the bombing.
We now change positions to look at the same scene just moments later from a different perspective, and this is where things really start to get interesting. All five of our key players (Carlos, Jeff, Hoody, Nicole, and Redcoat) are present and accounted for. Just about everyone else, which is to say all the non-actors, have fled the scene. Jeff is just behind Redcoat, though he is all but impossible to see. Everyone is ignoring him. In fact, with the notable exception of Arredondo, no one on the scene is even looking in his direction. Not a single person.
All the non-actors have fled the scene?  You mean all the people still able to move under their own power left the scene.  I also want to point out that there is a cluster of severely wounded people still on the ground near the woman in the pink vest.  You can see them in the other views. Please check the picture I have above of the full scope of the carnage and the different groups of people who are gravely harmed.  This group in the foreground is hardly the only group on the ground.
McGowan goes on:
And speaking of Arredondo, he is, mere moments after the blast and with the smoke still swirling, already inside the temporary fencing, which obviously would have been impossible had he initially been seated across the street in the bleachers. And it's hard not to notice that he isn't actually rushing to help anyone but is instead standing idly by, hat and flag in hand, though he is obviously aware of Jeff and appears to be looking right at him.
If Arredondo saw the blast, leapt up from his seat, vaulted the fence, and ran across the street, he could be there in seconds.  It makes perfect sense. Moreover, since Arredondo himself thinks he reached Jeff moments after the blast, this smoky picture is within that time frame because Arredondo isn't to him yet.  He's got his hat and flag in hand and he isn't pulling the fence in this picture.  I don't know why and neither does McGowan but it could be that he was shocked by the carnage in front of him and he hesitated for a few seconds before acting.  He lost a son in combat, a son to suicide and is himself a man with all kinds of trauma in his life.  It seems likely he was stunned, but I have to say my belief that he is stunned is an assumption.
We go from the speculative to the super-speculative.
McGowan Picture 8

Next up is a more detailed view of Arredondo, cropped from a higher resolution version of the above image. He is indeed inside the fencing and leaning casually against it. He also is quite obviously pointing with his right hand while shielding the gesture with his hat, as though covertly sending a signal. And he is, as previously noted, looking at Bauman while doing so.
1) I can see Arredondo's index finger but I can't tell if he is pointing.  He may just be moving his hand in a strange manner.  When people point, they generally bring their hand into a fist with their index finger extended.  To my eye Arredondo's finger is curved, and his other fingers are not clasped to his palm.  No idea what he was about to do but it seems as likely that he was moving his hand downward to grab something as much as point.  This picture caught him in mid-movement.
2)  It appears as if he may be looking at Jeff.  God knows if I ran onto that scene I would be looking at Bauman to the exclusion of most others.  But the implication of McGowan's statement of the hand signal and focusing on Bauman is that in some way Arredondo was sending a signal to the "actors."  But, as McGowan himself notes, his hat is in the way and Bauman could not have seen the gesture, if that is what Arredondo was doing.  Who on the other side of the fence could have seen it with the hat in the way? Almost doesn't matter since not a single person on the other side of the fence is looking at him.  If that was indeed a hand signal, no one saw it.
This is one of many pictures of Arredondo in this area.  I find it interesting that McGowan didn't use any of the pictures when the gravity of the horror has sunk in and Arredondo begins tearing down the wall.
Below is a close-up of hoody guy, cropped from the same high-resolution image. Hoody is clearly knocking on death's door here and we can bear witness to his exposed femurs, shredded and badly bleeding legs, and partially 'degloved' right hand. We can also see that he is very concerned about his missing wife. Ooops …. actually we can't see any of that because none of it really happened. What we actually see is a guy comfortably reclining with a fully intact right hand and two perfectly fine legs. He hardly even has any blood on him, and what is visible was undoubtedly picked up from the pavement.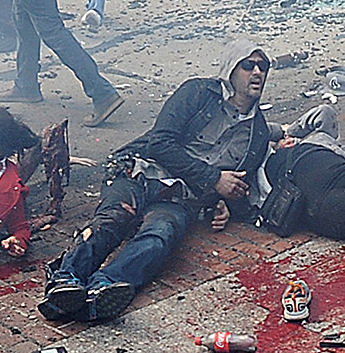 1) Not a debunk but I find McGowan's sarcasm here beyond offensive.  He's mocking a man who indeed suffered great injuries.  Williams was initially facing amputation but the doctors managed to save his legs.  If you are going to mock a man who has suffered, you best have all your ducks in a row and McGowan isn't even close to making even a prima facie case that the first bombing scene was staged.  It's disgusting and if my verbiage seems harsh, so be it, but then again, I'm not the one mocking people who could have died had it not been for the remarkable work of first responders.
2)  It is clear on his right hand that he is missing the skin on middle and ring fingers.  His pinky finger is not clear to me.  I have no idea why McGowan saw fit to deny and mock this injury that can be seen with the naked eye.
3)  If the shrapnel shredded Williams' leg and his jeans cover the area – perfectly possible with the sort of shrapnel wounds reported from the doctors who cared for the bombing casualities – then McGowan can't see it.  Shrapnel tore through people's clothing and embedded itself in their flesh and often the wounds were not immediately visible if their clothing was dark. The photographs from Williams' charity page show exactly where the bone was exposed and all the results of surgeries to close the wound.  Go have a look but here's a picture of his leg after several surgeries (this picture does not appear on McGowan's site and is my addition to this discussion).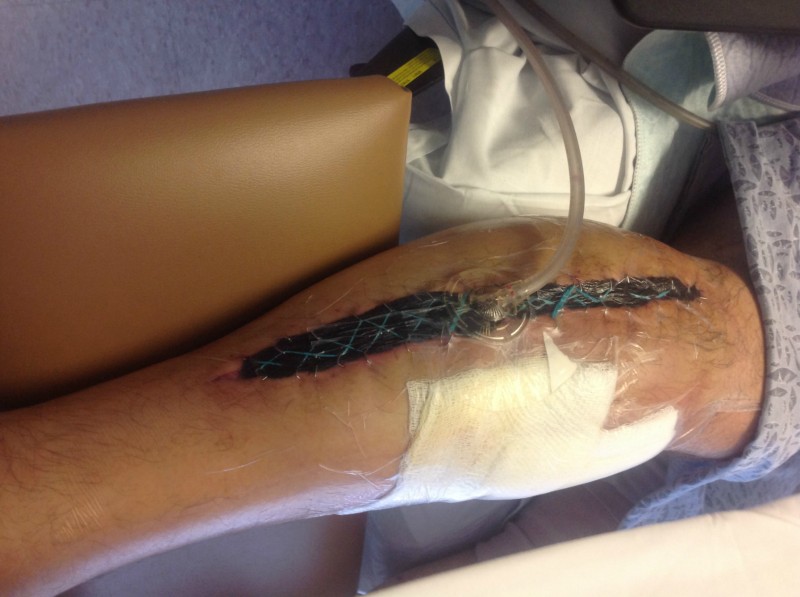 The shrapnel wounds to his legs were so bad that people applied tourniquets so he would not bleed out.  He has had four surgeries and had to have skin grafts to cover the gaping gash wound on one of his legs.   This picture above is of Williams' right calf, which looks mangled to the naked eye in McGowan Picture 9.  His feet do not even seem to be pointing in the correct direction.  Look at how he is holding his right hand – he's holding it up in a protective manner in the same manner one instinctively places one's arm when injured, almost as if in a sling.  He's not touching anything, grabbing anything – he's just holding that hand immobile and elevated.
Law of Parsimony people.  We can believe that Williams is an actor; he faked his injuries; he laid languidly after the bombing, drawing attention to himself while trying to hide his identity; an entire hospital system was complicit in his ruse; and he participated in a well-known Go Fund Me page that further showed his identity while defrauding trusting people who felt bad for him and his wife.
Or we can believe Williams was wounded in the attack, was stunned into shock, almost lost his legs and has undergone multiple surgeries.  One requires literally hundreds of people to be in on a complex ruse that could come undone at any moment.  The other requires a bomb to have gone off and injured people.
Next up is a close-up of Recoat, lying in what is supposed to be Bauman's pooled blood. She nevertheless has remarkably little blood on her, though she does have an alien growing out of her midsection. I have no idea if that is supposed to be blood on her otherwise white top, but it certainly doesn't look like any kind of normal blood pattern. Overall, despite laying in a pool of blood and having been directly in the line of fire of Jeff's femoral arteries, she has very little blood on her and doesn't appear to have suffered any significant injuries.

McGowan Picture 10
1)  She is lying in Bauman's pooled blood.  Earlier McGowan said Jeff hadn't bled but now someone is lying in a pool of his blood.  Again, which is it?  She doesn't have spatters on her front because of how she fell and how the parts of Bauman's own ravaged legs deposited on her.  Additionally, her pants are black and she is wearing a red jacket.  Blood could be all over her.
2)  That alien on her shirt is the gore from Bauman's leg.  See, that's muscle and veins from Bauman's shin  And more to the point, given that this is how human bodies look like when they are blown up and it looks unbelievable to the eyes of those like McGowan, seems strange those who staged this would not have worked harder to make it more realistic to the American perception of such accidents.  McGowan mentions several times that this looks like a movie set.  If that was the goal, to recreate movie-style realism, then the perps certainly failed.
3) It certainly doesn't look like any kind of normal blood pattern…  Citation needed.  If McGowan wants to assert something like this, he needs to have proof of what it should look like if a woman fell atop a man whose legs had been blown off.
4)  She has no significant injuries?  Given that so many of these people had severe shrapnel injuries wherein shrapnel tore small holes in their clothes and completely shredded their legs, I would love to know how McGowan came to this conclusion.  But then again, he shouldn't have to speculate.  Look at her left leg (bent at the knee, I note).  See the huge gash?  See the blood dripping from it?  That's a significant injury.  It's like McGowan was looking at a different set of pictures and accidentally posted these instead.
 The next image up for review is of Nicole, with her twice-broken left leg, fractured ankle and severed Achilles tendon. Luckily, those injuries haven't hindered her mobility as she has clearly moved from her original position. Those are some excruciatingly painful injuries that she has, but she seems to be toughing it out okay. She has though been abandoned by her husband, who you would think would be tending to and comforting her, and her legless sister is nowhere to be seen. Her right arm got peppered with shrapnel, but luckily for her it was a special kind of shrapnel that shreds clothing fibers but doesn't penetrate flesh.

McGowan Picture 11
1) McGowan's mockery of Nicole sickens me.  It should sicken you, too.  Unless McGowan has any evidence that shows that a woman with these sort of injuries couldn't scoot along her bottom, using her hands to propel her, which is exactly what it looks like from my point of view, his point doesn't matter.  Or maybe someone helped her move.  Or maybe someone moved the injured away from her.  McGowan has no proof of how she got to her location here.  Again, citation needed.  Nicole is a personal trainer.  She is strong.  She is fit. I have no doubt she could have scooted herself that far, if only because when I had reconstructive surgery on an ankle, I had to navigate stairs on my bottom, scooting up and down.  And I didn't have the benefit of shock or adrenaline post-explosion to veil the pain. AND I am not even close to being in the sort of excellent condition Nicole was in when she was hit in this explosion.
2)  Look at Nicole's legs.  McGowan's nauseating implication that she was not hurt is refuted by the amount of debris crammed into her legs.  Her leg breaks could easily have been caused by shock waves. And I don't know why her husband is not by her side and neither does McGowan.  Speculating about him in this manner, that he callously abandoned his wife, is sickening.
3) Citation needed for how it is shrapnel cannot tear outer fabric without hitting the skin underneath.  We also don't know that it was shrapnel that did that to her sleeves.  Those tears could have come from her being pushed to the ground and dragged in the fray.  The sheer number of people that day with shredded clothing who were not bleeding because the shrapnel buried into their skin or veered away from their skin is staggering.  Shrapnel is not a bullet – it's not aerodynamic, and it does not travel in a straight line.  You cannot predict a shrapnel arc. Until McGowan proves with evidence that this could not have happened to Nicole's sleeve, his speculation is just that – guessing.
But then again, look closely at those holes in Nicole's sleeves.  Look to the right of them. See those dark stains next to them?  It looks very much like the shrapnel tore her shirt, went underneath and hit her skin, causing small wounds.  The blood was made less visible because her sleeves were red.  To the naked eye, the shrapnel indeed made her bleed and yet again McGowan's own photographic evidence doesn't match what he is saying.
4)  Her sister, Erika, only lost one leg.  She isn't legless.  That is such a well-known fact that I have no idea what McGowan is up to anymore other than being pointlessly glib.
5)  And since this photo he uses is of one small section of the carnage, this observation that Erika is not in the picture, the implication being that she somehow moved away, is nauseating at best, deliberately misleading at worst.  Go back to McGowan Picture 8.  That woman on the left, to the left of the black woman in the red jacket, is Erika. The blonde lady in the black and red top identical to the one Nicole is wearing.  You can't miss her but evidently McGowan did. Again, one very much gets the feeling that McGowan doesn't understand the very information he's presenting to make his bizarre case, and that's the most positive spin I can put on it.
That was a relatively common phenomenon in Boston that day, with the guy in the following image, looking like he just walked off a film set, being a classic example.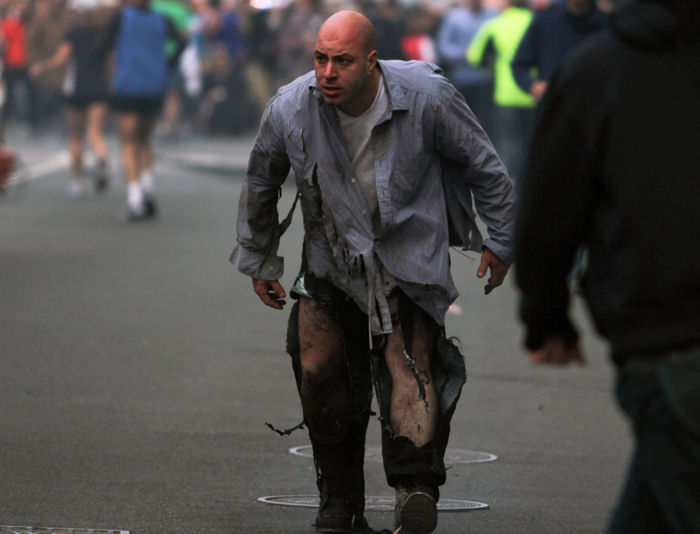 We end Part One with this picture, and McGowan asserting that this man has shredded pants with no injuries.  I see injuries on his right thigh and his left knee and shin.  I also note that there are black smears on his skin – his clothes could be in tatters because he had been on fire.  Many were on fire that day.  His clothing could also have been shredded in a concussive wave.  I have no idea what McGowan is trying to accomplish by making assertions that shrapnel bombs cannot do what they so clearly did because he offers no proof that what happened that day was impossible.  Google shrapnel bombs and read for yourself that some shrapnel injuries do not bleed much.  But even if shrapnel wounds bleed or don't bleed, I do not know what it is he is trying to accomplish by stating that people don't have injuries that are visible to the naked eye.
And again, if he wants to compare this to a Hollywood set, if some menacing power wanted to fake this, surely this man would have blood running down his legs.  But that's not how bombs work and it's not how shrapnel bombs work and I don't even have to prove how they work because McGowan, outside of cruel and sarcastic assumptions, makes no attempt to prove his case.
I welcome all comments but I urge those new to this site to read my comment policy.
Tune in soon for my response to Part 2.  Parts Two and Three are both much shorter than this first section.